Imbarimba
IMBA-SM-REC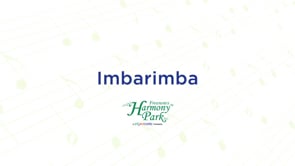 Imbarimba
IMBA-SM-REC
IMBA-SM-REC
The inspiration for this design combines elements of two African classics.
Click Here to Listen
Product Details
The Imbarimba design combines elements of two classic African instruments, the marimba (a resonated xylophone) and the kalimba (a thumb piano). The coated fiberglass bars are entirely weatherproof, withstand hard use, and deliver the sound of a wooden instrument without the maintenance. Stainless steel resonators project rich tones with strength and clarity.
Specifications:
Style: Earthy/ Percussive
Tonal Quality: Earthy/Marimba
Notes: 22
Note Material: Coated Fiberglass
Resonated: Yes
Key/Scale: (LH) C Major Pentatonic / (RH) A Minor Pentatonic
Range: Alto/ Soprano
Mallets: 2 Black (80 Durometer)
Dimensions: 45-3/4"W x 45"H x 28-5/ 8"D
* Finished Height varies based on mounting, post style, and desired age group.
Downloadable Resources
| | | | |
| --- | --- | --- | --- |
| Document Name | Category | Date Uploaded | Download |
| Imbarimba 3D CAD Files | DWG | 11/10/2023 | |
| Imbarimba 2D CAD Files | DWG | 11/10/2023 | |
| Imbarimba Installation Guide | PDF | 02/18/2021 | |
| Imbarimba STEP File | STEP | 02/18/2021 | |
| Imbarimba Cut Sheet | PDF | 04/11/2023 | |