Melody
MELD-SM-STL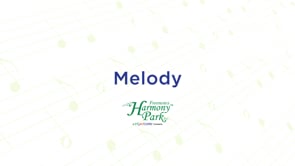 Melody
MELD-SM-STL
MELD-SM-STL
The Melody had a beautiful twinkly sound with 9 notes in a small but elegant design.
Click Here to Listen
Product Details
One of our smaller instruments, the Melody offers a beautiful sound with nine twinkly notes. As a smaller instrument, it can easily be paired with the Rhythm for a space-saving duo. The frame and resonator are made of robust, recycled plastic and the bright color hints of spring no matter what time of year it is played and enjoyed.
Specifications:
Style: Metallophones
Tonal Quality: Bright/Sustaining
Notes: 9
Note Material: Anodized Aluminum
Resonated: Yes
Key/Scale: C Major Pentatonic
Range: Alto/Soprano
Mallets: 2 Black (80 Durometer)
Dimensions: 23-3/4"W x 41-3/8"H x 16-3/16"D

* Finished Height varies based on mounting, post style, and desired age group.
Downloadable Resources
| | | | |
| --- | --- | --- | --- |
| Document Name | Category | Date Uploaded | Download |
| Melody Installation Guide | PDF | 08/27/2021 | |
| Melody 3D CAD File | DWG | 03/23/2021 | |
| Melody 3D STEP File | STEP | 03/23/2021 | |
| Flowers Cut Sheet | PDF | 04/11/2023 | |