Flowers
FWR-T-SM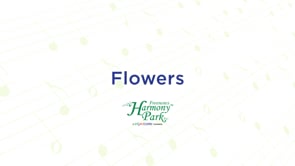 Flowers
FWR-T-SM
FWR-T-SM
The Flowers add both a sculptural and aesthetic design that invites users young and old to create music in an outdoor environment.
Click Here to Listen
Product Details
No garden is complete without its Flowers and what could be better than a sound garden that blooms year-round! Each of our flowers feature a distinct musical chord, size, height, and color, and emits a long-sustaining tone when the petals are struck.
* Available in Standard and Toddler Height*
Specs:
Style: Bell Plate

Tonal Quality: Bright/Sustaining
Notes: 4 per Flower
Note Material: Anodized Aluminum
Resonated: No
Key/Scale: C Major Diatonic
Range: Alto/Soprano
Mallet: 1 Black (80 Durometer) per Flower
Flower Dimensions:

Standard
Yellow: 26"W x 48"H x 14"D
Indigo: 25"W x 46"H x 14"D
Orange: 20"W x 42"H x 13"D
Turquoise: 19"W x 39"H x 13"D
Toddler
Yellow: 25-7/8"W x 40-5/8"H x 13-5/8"D
Indigo: 24 -7/8"W x 40-1/8"H x 13-5/8"D
Orange: 20-1/8"W x 38-1/8"H x 12-3/4"D
Turquoise: 19-3/8"W x 37-3/8"H x 12-3/4"D
*Finished height varies based on mounting, post style, and desired age group.
Downloadable Resources
| | | | |
| --- | --- | --- | --- |
| Document Name | Category | Date Uploaded | Download |
| Standard Flower Installation Guides | PDF | 06/16/2023 | |
| Toddler Flower Installation Guides | PDF | 08/27/2021 | |
| Flower 3D CAD File | DWG | 03/25/2021 | |
| Flowers Cut Sheet | PDF | 04/11/2023 | |
| Toddler Flowers Cut Sheet | PDF | 04/11/2023 | |