Duet
DUET-SM-REC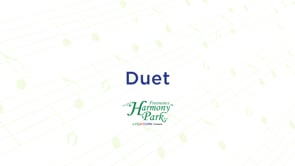 Duet
DUET-SM-REC
DUET-SM-REC
The Duet combines keys of aluminum and fiberglass to enhance the playing experience.
Click Here to Listen
Product Details
Enjoy both earthy and sustaining sounds with the Duet, featuring a marimba and a metallophone in one instrument. With four mallets, the Duet invites multiple people to share an enhanced musical experience, as they explore rhythmic and chime intonations.
Specifications:
Style: Metallophone/Marimba
Tonal Quality: (LH) Bright/ Sustain (RH) Earthy/ Percussive
Notes: 18
Note Material: Anodized Aluminum and Coated Fiberglass
Resonated: Yes
Key/Scale: (LH) A Minor (RH) C Major Pentatonic
Range: Alto/Soprano
Mallets: 4 Black (80 Durometer)
Dimensions: 41-3/16"W x 46-1/8"H x 25-3/16"D

* Finished Height varies based on mounting, post style, and desired age group.
Downloadable Resources
| | | | |
| --- | --- | --- | --- |
| Document Name | Category | Date Uploaded | Download |
| Duet CAD File | DWG | 02/18/2021 | |
| Duet Installation Guide | PDF | 02/18/2021 | |
| Duet STEP File | STEP | 02/18/2021 | |
| Duet Cut Sheet | PDF | 04/11/2023 | |