Mushroom Ensemble
Freenotes Mushroom Ensemble IG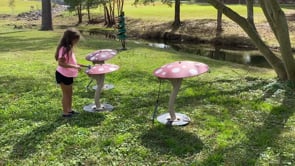 Mushroom Ensemble
Freenotes Mushroom Ensemble IG
Freenotes Mushroom Ensemble IG
Children will delight in these charming Mushrooms that produce a resounding gong when struck.
Product Details
Children delight in the sound and vibration of our musical Mushrooms! The whimsical cap makes a resounding gong when struck. Our Mushroom ensemble makes a wonderful statement in any outdoor environment and when all 3 of them are played at the same time, the sound can be quite mesmerizing.
Specifications:
Style: Bell
Tonal Quality: Gong/Sustaining
Notes: Indefinite. Low/ Med/ High
Note Material: Anodized Aluminum
Resonated: No
Key/Scale: N/A
Range: Bass
Mallet: 1 Black (50 Durometer) per Mushroom
Dimensions:
Small: 26- 1/2"H x 20-1/4"W x 19-7/8"D
Medium: 28-1/8"H x 24.3/8"H x 24"D
Large: 30- 1/2"H x 27-7/8"W X 27-1/2"D
*Finished height varies based on mounting.
Downloadable Resources
| | | | |
| --- | --- | --- | --- |
| Document Name | Category | Date Uploaded | Download |
| Sales Sheet | PDF | 03/25/2021 | |
| Mushroom 2D CAD Files | DWG | 03/25/2021 | |
| Mushroom Cut Sheet | PDF | 07/27/2023 | |